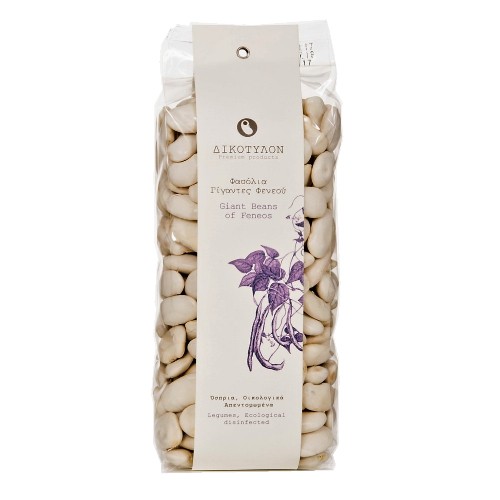 Gigantes Beans Of Feneos 500g
From: £5.84
Produced in the mountain valley of Feneos in the north Peloponnese, "Gigantes Feneou" (commonly known as butter beans) retain their particular characteristics through the cultivation techniques applied by local farmers, which have been handed down from generation to generation, and consists of work by hand, from sowing to drying and cleaning. The exclusive selection, by the farmers themselves, of the seeds for sowing for the following year, has the target of preserving the purity of the plant species.
Ingredients: 100% Gigantes beans of Feneos
no preservatives, no pesticides
Net weight: 500g
Packaging: vacuum pack
Cooked in a delicious, hearty soup "fasolada" accompanied with sausage, or a summer vegetable bake, the best alternative choice to meat. The pulses featured in our collection are selected and packaged by "Genea Gh" and have been produced in Feneos, a 600m high mountain valley nestled between the 2,400m peaks of Helmos and Zyria in the north Peloponnese, where the rich and fertile land adds its own flavor to the environmentally produced products – a land blessed by the gods through Artemis and Hercules. The produce comes from local small-scale farmers, all of whom are land and product registered, who have developed their skills of cultivation from generation to generation, so ensuring the unique strains of the seeds used to provide the ultimate in terms of both quality and taste.